ABOUT US
Tangle Ridge Ranch is a family owned and operated beef operation located west of Okotoks, Alberta, in the beautiful Foothills.
We specialize in raising Simmental, Limousin and Angus beef cattle utilizing modern technology and DNA testing to track individual traits such as feed efficiency, weight gain, calving ease, maternal genetics, whole herd docility and bottom line, world class beef.
Throughout our herd's three decades of data collection, we have been able to achieve the most desirable animal not only for breeding stock but for a high end finished beef product that consumers demand first time, every time and all the time.
sustainable farming
At Tangle Ridge Ranch, protecting our environment and the earth for future generations, is a priority for our family.
In order to minimize our impact, these are just some of the sustainable farming practices that we follow: use of earth-friendly products and biostimulants to aid in plant and soil health and to promote animal welfare; conservation tillage in order to help retain soil moisture, reduce erosion, and maintain soil structure; smart water usage practices in order to conserve water and reduce wastage; and integrated pest management practices to minimize pesticide reliance, preserve beneficial insects, and reduce environmental impacts.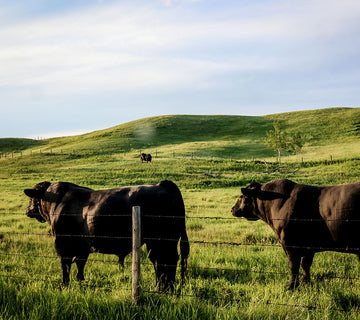 ANIMAL WELFARE
Our family loves animals. In addition to cattle, we also have horses, goats, honey bees, chickens, dogs, cats and pigs. Whether it is our pets or our cattle, we are committed to providing our animals the very best care possible. This includes providing open pastures for our herd to graze on, 24/7 monitoring and animal health care, and more.
WHAT WE OFFER
At Tangle Ridge Ranch we pride ourselves in raising superior long yearling bulls and every year we host a live auction, 3-breed bull sale in mid-November.
Plus we offer bulk beef sales, farm fresh eggs, raw honey, and beeswax candles and lip balms.
View our brochure here.
WHAT MAKES OUR BEEF UNIQUE
At Tangle Ridge Ranch we combine the genetics of Simmental, Limousin, and Angus cattle, to capitalize on the strengths of each breed to produce beef with the optimal mix of marbling, tenderness and flavour. The Simmental genetics contribute to the size and muscling of the animal, the Limousin genetics enhance tenderness, and the Angus genetics enhance marbling and flavor. This combination aims to strike a balance between muscle development, tenderness, and marbling, resulting in beef with outstanding eating qualities.
WHY CHOOSE US
Our cattle are ethically and naturally raised, in wide open pastures and receive superb care and comfort
We do not utilize growth-promotant implants
We process our beef locally, partnering with one of the very best butchers in the area. It is dry aged, the old fashioned way, for a minimum of 21 days, to maximize tenderness
Utilizing genetics, our beef is the optimal mix of marbling, tenderness and flavour
Skip the middle man. Bulk beef purchases offer cost savings, customization and variety and supports local ranchers and sustainable practices
Our beef is 100% grass fed. Your beef may be finished on grass only or barley/oats finished for up to 120 days. Choose from grass or grain finished beef and receive all of the health benefits associated with each.
Our cattle are humanely harvested at the ranch, reducing stress hormones in the beef, which can impact beef quality and flavour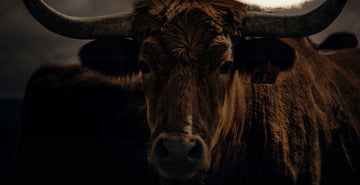 "Tenderness and marbling are among consumers' top requirements for an enjoyable eating experience, but nobody else in the seedstock business is doing anything to attain it. We aim to make our beef predictably tender, right from the start, every time."
Randy Bollum, Herd Genetics Consultant