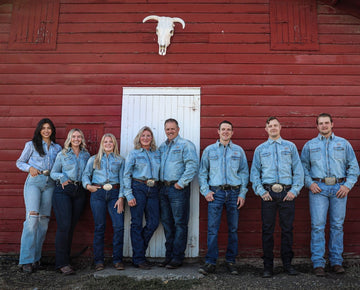 ABOUT US
Tangle Ridge Ranch is a family owned and operated beef operation located just west of Okotoks, Alberta, in the beautiful Foothills County.

We specialize in raising Simmental, Limousin and Angus beef cattle utilizing modern technology and DNA testing to track individual traits such as feed efficiency, weight gain, calving ease, maternal genetics, whole herd docility and bottom line, world class beef.

We pride ourselves in raising superior long yearling bulls and every year we host a live auction, 3-breed bull sale in mid-November.

Our family would like to invite you to browse through our catalogue and then we hope to see you at our next bull sale in order to add value to your herd!

We aim to add a female sale to our calendar in 2024 so please stay tuned.
ASSOCIATIONS
PROUD MEMBER OF THE AMERICAN ANGUS ASSOCIATION, CANADIAN LIMOUSIN ASSOCIATION AND CANADIAN SIMMENTAL ASSOCIATION.
The primary function of the Canadian Limousin Association is to maintain the herd book of pedigree and performance information for Limousin breeders in Canada. As the breed has evolved and expanded, so has the need to upgrade procedures for collecting, submitting and processing animal information. All CLA members are encouraged to collect performance data on a wide variety of measurable traits to aid in the genetic evaluation and to evaluate where their animals rank within their own herd and the breed. The Elite Herd program was established in order to distinguish operations who have placed an emphasis on data collection and reporting to the Association. The Elite Herd list is published annually and highlights the operations who are at the forefront of data collection and reporting. The Elite Dam program was developed to recognize Limousin females of merit that excel in a specific set of criteria that has been identified as important in a production setting. Elite females receive their designation at the end of each calendar year.