QUALITY BEEF
WE ARE CONSTANTLY STRIVING TO EXCEL IN THE BEEF INDUSTRY
THE BENEFITS OF DATA
Our "Beefmaker" bulls and "Milkmaid" females have more data available on each animal than any other genetic source in Canada. Use it with confidence.
Unassisted births – consistency – no unpleasant surprises.
Dam's first calving at 2 years – conceived on 1st service.
Homozygous polled – their calves will be genetically dehorned.
Solid red or solid black colour – will sire more uniform calf crops – several homozygous black.
Early puberty – extra scrotal size – heifer mates cycle early.
Throughout our 20 years of individual animal feed efficiency testing, we have learned many things including that there is a dramatic difference between all cattle, and that you certainly cannot tell them apart simply by looking at them!
FEED EFFICIENCY IS 40% INHERITABLE
Use the data to improve your calf crops and your cow herds. Feed efficient cows eat less every day for the 10-15 years that she's in the herd.
Tenderness is one of the consumers' top requirements for an enjoyable eating experience, but nobody else in the seedstock business is doing anything to attain it. We aim to make our beef predictably tender, right from the start – every time.
Once you start a replacement heifer in your cow herd, the more years she stays producing, the more profitable your cow herd is.
The Tangle Ridge Ranch herd is built around well proven sires that are breed trait leaders for stayability EPDs (number of years a cow stays in the herd). Many of our cows produce well into their teens.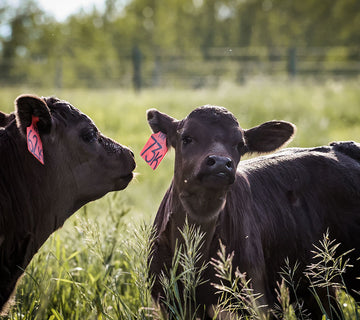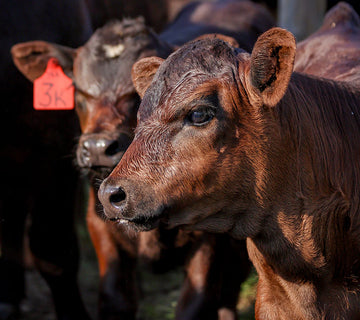 FEED EFFICIENCY
Measuring individual animal feed efficiency is rare because of the difficulty in accurately and cost-effectively measuring daily feed intake of each animal. By using the feeding bunks and electronic system developed by GrowSafe Systems, continual 24-hour-a-day monitoring of each animal's feed consumption is recorded for a 70+ day trial period.
The first set of bulls to use the new machines at Cattleland started their test November 10th, 2004, and it ran through February 3rd, 2005. There were breeds of bulls going through this first round to gather information as to their ability to convert feed to pounds of gain. Bulls were also ultrasound measured for carcass traits upon completion of test.
Since then, the TRR bulls and females have had individual animal feed efficiency tests done on the entire calf crop to get an accurate measure on the whole group.
Click on the button below to gain a better understanding of how we get our results.